Session 174
In this episode, Ryan talks with Cain who is not your average nontrad, being academically disqualified from college, taking his undergrad at 38 years old, taking the MCAT late, having less than stellar GPA, and yet, he got interviews to medical schools and has now been accepted to University of Central Florida where he will begin his medical school journey at 42 years old.
Listen in as Cain shares with us his interesting journey, going to college with his son and taking the same classes, leaving his engineering career over medical school, and finally getting the acceptance that he wanted to pursue his dream of becoming a doctor.
Here are the highlights of the conversation with Cain:
Cain's career before the medical path:
Getting admissed in college when he was 19 years old
Initially getting his degree in computer science
Working as an engineer for more than 15 years
Getting laid off and demoted
Working his way back up
His aha! moment of wanting to be a physician:
His wife initially giving him the idea
Seeing the whole picture of using knowledge and science to help people in many different ways
Resources he tapped into to gather information:
Choosing his undergrad:
Getting rejected at University of South Florida
Going back to school at 38 years old
Signing up for community college classes
Taking the classes with his son at the community college
Getting A's and reapplying to USF
Being an "older" undergrad student:
Looking at you with a high level of respect
Feeling scared and thinking that younger minds have stronger minds
Getting unconditional support from his wife
Coming across a lot of doubters
His shadowing experience:
Meeting a kid at his workplace whose uncle is a doctor
Meeting up with the doctor and allowing him to shadow him twice a month for 6 months
The doctor testing his resolve and pimping him yet giving him the opportunity to shadow
Taking the MCAT and applying to medical school:
Applying early but taking the MCAT late (school's not looking at your application until later)
Being focused to get it done and getting a 513 on the MCAT
GPA from 2.59 to 3.29
Applying to 5 state schools
The interview process:
Getting help from Ryan for a mock interview prep
Interview questions were focused on who he was
Being a resident of your state as a big advantage
Getting acceptance to medical school:
Going to the University of Central Florida
Seeing that the school was the exact fit for him
Initially at the bottom of his list but later moved to the top
Factors for picking your medical school:
Research the website
Performance of the class
Overall look at the admission process
Contacting the school, getting their literature, and seeing the presentation ahead of time
Some pieces of advice for other older aspiring medical students:
Be careful about whose advice you take.
Have the drive to do it. If you struggle academically, you have an opportunity to be the Cinderella story. And that will set you apart from other typical medical students.
Links and Other Resources:
University of Central Florida College of Medicine
Save $225 on the Princeton Review's MCAT Ultimate or MCAT Self-Paced Prep Course through March 30th 2016 by going to www.princetonreview.com/podcast
Next Step Test Prep: Get one-on-one tutoring for the MCAT and maximize your score. Check out their 10-full length practice tests that you can take.
If you need any help with the medical school interview, go to medschoolinterviewbook.com. Sign up and you will receive parts of the book so you can help shape the future of the book. This book will include over 500 questions that may be asked during interview day as well as real-life questions, answers, and feedback from all of the mock interviews Ryan has been doing with students.
Are you a nontraditional student? Go check out oldpremeds.org.
For more great content, check out www.mededmedia.com for more of the shows produced by the Medical School Headquarters including the OldPremeds Podcast and watch out for more shows in the future!
Free MCAT Gift: Free 30+ page guide with tips to help you maximize your MCAT score and which includes discount codes for MCAT prep as well.
Hang out with us over at medicalschoolhq.net/group. Click join and we'll add you up to our private Facebook group. Share your successes and miseries with the rest of us.
Check out our partner magazine, www.premedlife.com to learn more about awesome premed information.
Listen to our podcast for free at iTunes: medicalschoolhq.net/itunes and leave us a review there!
Email Ryan at [email protected] or connect with him on Twitter @medicalschoolhq
Subscribe for Free
Listen to Other Episodes
Leave us a Review and Rating!
Just like Yelp reviews or IMDB ratings help you choose your next restaurant or movie, leaving a 5 star rating and/or a written review is very valuable to The Premed Years. It allows us to be able to share our information with more people than ever before.
I am so incredibly thankful to those who have recently gone into our listing in iTunes to provide a five start rating and a written review of The Premed Years.
Subscribe and Download
iOS/Mac/Windows – You can subscribe to the show in iTunes. Or you could manually add the RSS feed to your aggregator.
Android/Mac/Windows – You can download DoubleTwist and use that to manage all of our past and future episodes
Please help us spread the word!
If you like the show, will you please take a moment to leave a comment on iTunes? This really helps us get the word out!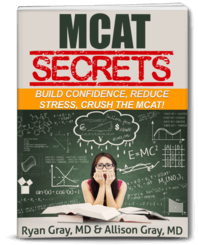 DOWNLOAD FREE - Crush the MCAT with our MCAT Secrets eBook