Session 363
Nathan's story takes us through criminal justice, being a first responder, and a low GPA. His admission to medical school will motivate and inspire you.
For more help in your medical school application journey, be sure to check out all our other podcasts on the Meded Media. Looking for more motivation? Check out our YouTube channel premed.tv where we have videos including the Application Renovation, Ask Dr. Gray, our regular Monday videos, and much more!
Listen to this podcast episode with the player above, or keep reading for the highlights and takeaway points.
[01:33] From a 1.8 GPA in Freshmen Year to Paramedic School
Nathan took a major in Criminal Justice. He moved out of the house as a teenager and obviously didn't take freshmen year seriously. He realized he had to work and study at the same time. He had multiple F's in his first year and walked away with a 1.8 GPA.
He did a course correction and realized Criminal Justice wasn't for him. So he went to paramedic school afterward. He connected both through an underlying theme of helping people.
His only medical experience was being dragged to work when he was a little kid by his mom who was a medical transcriptionist. This made him grow curious in elementary school.
Nathan got his paramedic license in 6-7 months. Paramedic school was tough but because it was accelerated, it was M-F, 9-5 and he needed the structure.
'If you're passionate about something, you do better.'
Click To Tweet
Paramedic school has a different system. 94% is the cutoff for A or B. When it came time to submit his application, he had 36 hours of 3.0 for science, which is a B on the transcript.
[Related episode: My Initial GPA Was 1.8. Can I Still Get into Med School?]
[08:10] The Seed 2.0
Nathan was a paramedic for about 8 years. He had changed companies and flying helicopters as a paramedic. He got to see different trauma systems and hospitals at a state and regional levels. He was able to interact with the small, rural hospitals taking patients to the largest teaching hospital in the state.
This was his "seed 2.0." They had continuing education at some of the Level 1 hospitals. Being able to see medical students up-close was eye-opening for him realizing that he can also do what they're doing. This was his lightbulb moment.
'If it's in the realm of possibilities, you have to go for it.'
Click To Tweet
[12:06] Seeking Out Resources
Nathan was working for a small rural hospital-based ambulance service and there he found awesome mentors. He started asking questions about how to go about the application process.
He has one mentor who had a very similar situation to him. He had a horrible GPA. He was a paramedic and went to medical school while he was married and had kids.
Nathan also credited the resources on Meded Media, which he described as life-saving for allowing him to keep out from committing mistakes many students make.
At this time he was working, had already reserved a seat, and he was going to take it without any study prep or practice test in October.
Good thing he stumbled upon this podcast and canceled his test. A year later, he got into medical school. Otherwise, he would have had zero chance of getting into medical school.
[Related episode: 10 Premed Resources You Need to Be Using]
[15:15] Conversations with Family
When he came back from the clinical rotation and had the lightbulb moment, he sat down with wife to tell her what he wanted to do. His wife admitted that she had already seen it in him before he had even seen it himself.
'At the end of the day, you're still going to be limited in the patients you can care for and the depth of treatment you can do.'
Click To Tweet
Part of their family conversation was him finishing his undergrad and moving. He had the chance to go to a state university or move two hours away which was about a third of the cost. Ultimately, they moved and it was also closer to her family.
'You have to be in the best position for your family regardless if you think it's the most prestigious school or not.'
Click To Tweet
One of the hardest conversations they had was how much does she want to work while he's in medical school. There's the debt conversation of looking ahead – what to sacrifice now versus what you can add on to your tab and say you'll pay it off eventually.
Presently, they have two kids, one in preschool and the other in elementary.
[Related episode: When and How Should I Tell My Friends and Family I'm Premed]
[19:15] Seeking Out Mentors
Nathan was struggling with balancing everything. He was able to talk with another physician who is married with kids in medical school. He told him it was the best time of his life for him and his marriage. He was also a paramedic previously.
Most paramedics work 60-80 hours a week between one or two jobs. Hence, he found a medical school to be the best time of his life as there was less to do. That being said, it's still nerve-wracking knowing what he was getting into.
[21:05] Thought Process for Creating a School List
Nathan explains that they had to make their decision upfront whether they were willing to move their family. He lives in a town that has a medical school five miles down the road from his house. There's that stress and anxiety of trying to get into that school but he also decided not to put all his eggs in one basket.
'Above name and prestige, we had to pick the town where we knew that we could raise our family.'
Click To Tweet
During interviews, his wife came with him on every interview so she could scope out the town and the schools. For them, the geographical location was a larger factor than any prestige or cost of the school.
Other factors they had to consider included the cost of living. They had to look at the house market.
Nathan suggests to also consider where you're going to be on your third and fourth year. This was something that he didn't know going into this.
'Your first two years might be in that town. But guess what? You're moving again.'
Click To Tweet
Moreover, one of the big differences between DO and MD is that for the most part, DO schools are not affiliated with big academic institutions where they have room for third and fourth-year students. So a lot of DO students do a lot of traveling in their third and fourth years to get to clinical sites that have room for them to do their rotations.
Hence, it's important to figure out where medical students go as this kind of information may not be necessarily pulled out of their website.
Some schools do a straight lottery. Even though the students stay in town, it was a straight lottery whether or not you had to go travel hours away. Nathan was lucky to be in a school where 80-90% got to stay in the same town as the school.
[Related episode: How to Choose a Medical School & Put Together a School List]
[25:15] DO vs. MD
Nathan applied to both MD and DO schools. He was going to apply to the state MD schools in Missouri. Being in Missouri in the midwest, there are a lot of DO schools. Ironically, 99% of his mentors that he worked with in their emergency room with the ambulance were DOs.
He applied broadly and ended up applying to 13-14 schools. It was a split between MD (5) schools and DO (8) schools.
He got into his top choice, which was also his first interview. He chose the school that was only five miles from where they live. He's just happy to be able to live in the same house. His wife can still get to keep her job and their kids can still go to the same school.
[Related episode: MD vs DO: What Are the Differences?]
[27:30] Life Challenges as a Premed
In order to finish his undergrad, they moved back to where they can be closer to the grandparents. He was told to slowly give himself back into it.
'It's extremely hard to try to keep working full-time and then all of a sudden go to the automatically a full-time student.'
Click To Tweet
Nathan started off as a part-time student and just kept adding a couple of hours each semester. Finally, he found his sweet spot between time in school and time at work and family.
He considers his work to be one of the biggest challenges during premed. It takes a lot of time studying and writing papers. He doesn't even think he could have stayed working full-time and very few jobs outside of being a paramedic.
He felt fortunate enough to be able to still work on the ambulance full-time and be able to study in between calls.
Although he had an initial low GPA weighing on him, good thing he didn't take any science classes in Criminal Justice. He knew he stood the chance of tackling his science GPA and make the best score as he could.
He looked at the classes needed for him to graduate. Being a paramedic and with the previous change in his Major, he ended up with a really high denominator in his college undergrad hours.
'Do not get hung up too much on specific scores and just clinging onto the fact that there is a score that's good enough.'
Click To Tweet
It can be discouraging that no matter how many more classes you take, you're really not going to move the needle anymore. Nathan's advice to students is to not get too hung up on specific scores and just cling onto the fact that there is a score that's good enough.
[31:15] Life in Medical School and Taking Loans
For the first time, Nathan would have to quit working. Although this makes him a bit anxious, he's also excited about being a student as his only job. His wife is going to keep working part-time and see how it goes.
They're also working on taking additional loans to help support them financially. Medical insurance is huge. He has his own dependents. Realize that you have to budget a thousand dollars a month to have health insurance for your family.
'Most schools have health insurance that you have to purchase at a discounted rate for you and your family.'
Click To Tweet
[Related episode: How to Pay Back Your Medical School Loans]
[33:18] Hopes in the Future
Nathan is simply wide open to whatever possibilities and opportunities that may come his way. With a paramedic background, he could see himself as an EMS/emergency medical director.
'The future of EMS is at a crazy crossroad... Ambulance services are closing. There aren't as many paramedic students going through new programs.'
Click To Tweet
Nathan describes the sad situation the EMS field is currently in with ambulance services closing. The number of paramedic students going to new programs is also decreasing. Who wants to go be in charge of intubating a three-year-old when you're making $14 or $15 an hour?
That being said, Nathan could definitely see himself pursuing a representative program of having that background, knowing what needs to change.
[35:00] The Interview Process
His low grades never came up in his interviews and he thinks the reason for this was that he was able to share his story. Hone in your storytelling skills. If you can practice telling your story, it really doesn't come up at all.
'Practice learning how to tell a story, creating suspense at the right time, and showing adversity and overcoming it.'
Click To Tweet
Nathan listened to this great storytelling podcast called Speak Up by Matthew Dicks. They would give storytelling critiques.
[37:00] Final Words of Wisdom
For the student with a similar situation as Nathan, he wishes to tell them that no one else is going to be an expert on your story except for you. If you can honestly say that this is going to be a five-year course correction path and that you can have an upward trend, then you can overcome it!
Starting off with a 1.8, Nathan finished with a 3.3 cumulative GPA and a 3.4 science GPA. He also going to graduate with about 215 credit hours. His MCAT was a 505. And now he knows that #respecttheMCAT is a real thing!
Nathan's biggest takeaways:
Tell your story.
Upward trend.
Stop worrying about the little stuff.
Communicate with your spouse.
Links:
Speak Up Podcast by Matthew Dicks
Listen to Other Episodes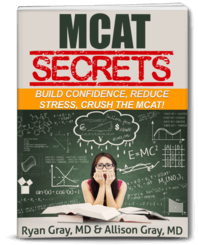 DOWNLOAD FREE - Crush the MCAT with our MCAT Secrets eBook