Arkansas College Secondary Essay Prompts
(If you have updated prompts, please submit them at updatesecondaries.com)
These prompts are from the 2019 Application Cycle.
Prompts:
Please describe a difficult time in your life and how you overcame it. Limit your response to 2-3 paragraphs.
Please tell us about a time you felt proud. A narrative is not required, please simply list specialties of interest.
ARCOM students can choose residencies in a wide range of specialties. if you had to pick today, what top 2 specialties would you be interested in learning more about?
---
Secondary Deadline: March 1, 2019
Secondary Fee: $50
FAP Waiver: Full Fee Waived
CASPer Required: Yes
Screens Applications: Yes
Accepts Application Updates: Yes
---
Arkansas College of Osteopathic Medicine Mission:
The mission of the Arkansas College of Osteopathic Medicine (ARCOM) is to educate and train compassionate osteopathic physicians, skilled in the science of patient-centered osteopathic medical care, dedicated to the ethical and social principles of the osteopathic profession, committed to lifelong learning, and focused on service to the underserved. This mission will be accomplished at the undergraduate and graduate medical education levels through excellence in teaching, research, service, and scholarly activity.
Arkansas College of Osteopathic Medicine Values:
Compassion
Scholarship
Teamwork
Leadership
Professionalism
Integrity
Service
Diversity
Ethical Treatment of all people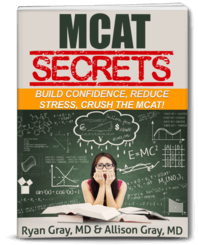 DOWNLOAD FREE - Crush the MCAT with our MCAT Secrets eBook