Frank H. Netter MD Secondary Essay Prompts
(If you have updated prompts, please submit them at updatesecondaries.com)
These prompts are from the 2019 Application Cycle.
All prompts have a 150-word limit.
Secondary Essays:
REQUIRED
What area of medicine do you envision yourself working in at the end of your training? What is shaping your vision?
Please tell us something about yourself that is not captured in your application.
CHOOSE THREE
Discuss a personal role model (someone you know; not a historical or public figure). What attributes does this person possess that you admire and strive to emulate?
Which extracurricular activity is most important to you and why?
What non-academic advice would you give to your younger self?
Detail something about yourself (quality or non-academic accomplishment) that makes you extremely proud.
Describe your most humbling non-academic experience, and how that experience will affect your interactions with your peers and patients.
---
Secondary Deadline: December 15, 2018
Secondary Fee: $100
FAP Waiver: Full Fee Waived
CASPer Required: No
Screens Applications: Yes
Accepts Application Updates: No
---
Frank H. Netter MD School of Medicine Mission:
The Frank H. Netter MD School of Medicine enables medical students to attain their highest personal and professional potential in a collaborative environment that fosters academic excellence, scholarship, lifelong learning, respect and inclusivity.
Frank H. Netter MD School of Medicine Vision:
The Frank H. Netter MD School of Medicine will be a model for educating diverse, patient-centered physicians who are partners and leaders in an inter-professional primary care workforce responsive to health care needs in the communities they serve.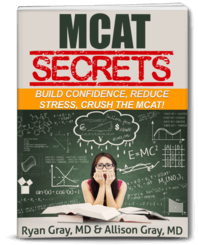 DOWNLOAD FREE - Crush the MCAT with our MCAT Secrets eBook