Larner at The University of Vermont Secondary Essay Prompts
(If you have updated prompts, please submit them at updatesecondaries.com)
These prompts are from the 2019 Application Cycle. 
All prompts have a 500-word limit. 
Prompts:
Please reflect on a difficult and challenging non-academic experience you have faced. Include a description of the stressful event, how you dealt with it and what you have learned about others and yourself through this process.
The Larner College of Medicine at the University of Vermont strongly values diversity. Larner COM recognizes that diversity extends beyond chosen and unchosen identities, and encompasses the entirety of an individual's experiences. These experiences embody many dimensions that include (but are not limited to) the personal, familial, geographic, intellectual, economic, professional, linguistic, and societal domains. Thus, each and every member of the Larner COM community brings a unique perspective to a shared goal of training compassionate and competent physicians. With this in mind, please reflect on your own diverse experiences and how those will allow you to successfully participate in teams and engage in active learning with your peers at the Larner COM. When composing your response please consider how these experiences impacted your understanding of others and yourself as well as any new insights gained.
Additional Comments (optional):
---
Secondary Deadline: December 15, 2018
Secondary Fee: $125
FAP Waiver: Full Fee Waived
CASPer Required: Yes
Screens Applications: No
Accepts Application Updates: Yes/Email
---
Larner College of Medicine at The University of Vermont Mission:
Our mission at The Robert Larner, M.D. College of Medicine at The University of Vermont is to educate a diverse group of dedicated physicians and biomedical scientists to serve across all the disciplines of medicine; to bring hope to patients by advancing medical knowledge through research; to integrate education and research to advance the quality and accessibility of patient care; and to engage with our communities to benefit Vermont and the world.
Example Link Can Be Put Here
Example Link Can Be Put Here
Example Link Can Be Put Here
Example Link Can Be Put Here
Example Link Can Be Put Here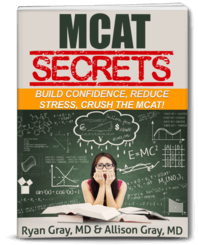 DOWNLOAD FREE - Crush the MCAT with our MCAT Secrets eBook