University of Kansas Secondary Essay Prompts
(If you have updated prompts, please submit them at updatesecondaries.com)
These prompts are from the 2019 Application Cycle. 
All prompts have a 1,000 character limit.
Prompts:
Describe your health care experiences that involved direct exposure to physicians' clinical duties and how they have shaped your desire to apply to medical school.
Describe examples of leadership experience in which you have significantly influenced others, helped resolve disputes or contributed to group efforts over time.
Beyond academics (grades and MCATs), describe the most significant challenge you have faced and the steps you have taken to address this challenge.
Give an example of what you have done to make your community a better place to live.
Describe how you relate to someone who is very different from you. Examples of differences may be cultural, racial, religious, economic, gender/sexual orientation, lifestyle.
If you are not a Kansas resident, what is your specific interest in applying to the University of Kansas School of Medicine?
If necessary, update the information contained in your AMCAS application. Indicate grades earned, alterations in your proposed course work or graduation time, additions to your extracurricular activities, or other pertinent information.
If there are discrepancies in your application that have not been explained in your personal statement, use this space to clarify. Examples may include unexplained gaps in time, multiple undergraduate institutions attended, multiple course withdrawals, inconsistent academic performance, inconsistency between academic performance and MCAT scores.
If you are currently enrolled, or plan to be enrolled during the next academic year, in a graduate or professional degree program, please describe your status within the program and your intention to complete the program. You must also request a letter from your graduate program advisor or from the dean of your professional school. This letter must include acknowledgement of your application to medical school and a description of your status in the program.
If you are no longer a full-time student, briefly describe your current employment, community, medical, and/or educational activities.
For Repeat Applicants Only: Since your last application, note any relevant academic, employment, and personal experiences that enhance your ability to be a better physician.
---
Secondary Deadline: November 15, 2018
Secondary Fee: $50
FAP Waiver: Full Fee Waived
CASPer Required: No
Screens Applications: No
Accepts Application Updates:
---
University of Kansas School of Medicine Mission:
The University of Kansas School of Medicine commits to enhance the quality of life and serve our community through the discovery of knowledge, the education of health professionals and by improving the health of the public.
University of Kansas School of Medicine Vision:
The University of Kansas School of Medicine will work with its partners to become the premier academic medical center in the region known for its excellent education, innovative scientific discovery, outstanding clinical programs and dedication to community service. It will be known as the place where everyone wants to come to learn, to teach, to conduct research and to receive his or her health care.
University of Kansas School of Medicine Values:
Excellence
Partnership and Collaboration
Teamwork and Participatory Decision Making
Ethics, Honesty, and Respect
Practicality and Financial Responsibility
Openness and Transparency in Decisions and Finances
Accountability and Measurable Milestones
Diversity
Continuous Improvement
Example Link Can Be Put Here
Example Link Can Be Put Here
Example Link Can Be Put Here
Example Link Can Be Put Here
Example Link Can Be Put Here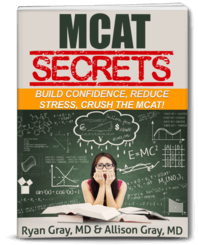 DOWNLOAD FREE - Crush the MCAT with our MCAT Secrets eBook