Session 04
In today's episode, Ryan talks with Eric and Amy from MCAT for Me, a new business aimed at shaking out the world of MCAT test prep. Eric and Amy are both undergraduate students at UC Davis. MCAT for Me was born out of necessity when Amy learned about the pretty high cost of MCAT prep.
Listen in as they talk about their premed path, volunteering, MCAT preparation, and a wealth of free resources that you can access from their site.
Here are the highlights of the conversation with Amy and Eric:
Amazing programs at UC Davis for undergraduate students:
Student-run clinics
Internships in the UC Davis Medical Center set up exclusively for UC Davis undergrads
Volunteering and research opportunities
Eric's background:
Growing up exposed to pharmacist parents and to his family's businesses
Currently a senior at UC Davis with a major in biomedical engineering
Planning to apply to DO and MD schools
Considering MD/PhD and MD/MBA programs
Choosing UC Davis as his undergraduate school because of a medical school nearby
Amy's background:
Growing up exposed to artist parents
Interest in autism and the cognitive aspect of psychology
Currently a junior at UC Davis as a Psychology major with emphasis on Biology
Volunteering at one of the student-run clinics catering to the underserved Asian population in Sacramento providing primary care and cancer screening
Amy is the first one to arrive and the last one to leave the clinic – hard work yet rewarding!
Choosing UC Davis primarily based on location and proximity to family
Involved with research since Freshman
Eric's MCAT preparation:
Choosing Princeton Review over Kaplan
Spending around $2,100 for a 10-week course
Studying for 10 weeks (perfect amount of time – not too long, not too short)
MCAT not as a fact-based test, rather based on concepts
MCAT is a lot less knowledge and facts but more on comprehending the questions
Not taking many classes but getting a 37 on the MCAT
Free MCAT test prep company offering a different style of learning (more visual)
They have about 50 YouTube videos with now over 3,000 views in just 2 months
Conceiving the idea of teaching people for fun
Teaching as the best way of learning
Putting up at least 1 video per day and releasing the website after 150 videos
Various study plans available
Free MCAT question of the day
Some pieces of advice for premed students:
Being happy with what you're doing goes a long way.
Don't worry about things that aren't completely obvious to you right now.
Just have fun and everything will work out well.
Focus on yourself and go on your own pace. At the end of the day, you're only competing with yourself.
Links and Other Resources:
Session 003: Picking a Premed Undergraduate College and a Premed Major
Choosing an undergraduate school
2008 Science Article about the MCAT Test Format
Princeton Review MCAT Test Prep
If you need any help with the medical school interview, go to medschoolinterviewbook.com. Sign up and you will receive parts of the book so you can help shape the future of the book. This book will include over 500 questions that may be asked during interview day as well as real-life questions, answers, and feedback from all of the mock interviews Ryan has been doing with students.
Are you a nontraditional student? Go check out oldpremeds.org.
For more great content, check out www.mededmedia.com for more of the shows produced by the Medical School Headquarters including the OldPremeds Podcast and watch out for more shows in the future!
Free MCAT Gift: Free 30+ page guide with tips to help you maximize your MCAT score and which includes discount codes for MCAT prep as well.
Hang out with us over at medicalschoolhq.net/group. Click join and we'll add you up to our private Facebook group. Share your successes and miseries with the rest of us.
Check out our partner magazine, www.premedlife.com to learn more about awesome premed information.
Next Step Test Prep: Get one-on-one tutoring for the MCAT and maximize your score. Get $50 off their tutoring program when you mention that you heard about this on the podcast or through the MSHQ website. Check out their 10-full length practice tests and save 10% using the code "MSHQ".
Listen to our podcast for free at iTunes: medicalschoolhq.net/itunes and leave us a review there!
Email Ryan at ryan@medicalschoolhq.net or connect with him on Twitter @medicalschoolhq
Subscribe for Free
Listen to Other Episodes
Leave us a Review and Rating!
Just like Yelp reviews or IMDB ratings help you choose your next restaurant or movie, leaving a 5 star rating and/or a written review is very valuable to The Premed Years. It allows us to be able to share our information with more people than ever before.
I am so incredibly thankful to those who have recently gone into our listing in iTunes to provide a five start rating and a written review of The Premed Years.
Subscribe and Download
iOS/Mac/Windows – You can subscribe to the show in iTunes. Or you could manually add the RSS feed to your aggregator.
Android/Mac/Windows – You can download DoubleTwist and use that to manage all of our past and future episodes
Please help us spread the word!
If you like the show, will you please take a moment to leave a comment on iTunes? This really helps us get the word out!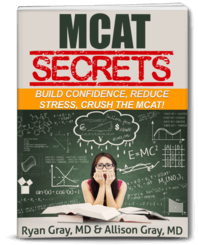 DOWNLOAD FREE - Crush the MCAT with our MCAT Secrets eBook