Session 10
In today's episode, Ryan talks with Dr. Victoria Rosner, the Associate Dean of GS Coordinator of Academic Affairs at Columbia University's Postbac Premed Program where Dr. Rosner leads the premedical advising team and support of postbac premed students.
Columbia University is the first and largest postbac program in the country with close to 500 students in the program altogether and focusing mostly on career changers, most of which have never taken science classes before and many of them have turned away from their successful careers in various industries but realized they had to dedicate their life to being healers.
Today, they discuss things like the growing popularity of postbac programs across the country, the types of students Columbia is looking for, and the immense support the school is offering to help their students really excel in their passion.
Here are the highlights of the conversation with Dr. Rosner:
Where most of the postbac students come from:
Going through undergrad thinking they're not going to be doctors
Some want to be doctors but they think they can't
A very diverse group
Common characteristics of postbac students:
Extremely driven and highly motivated
Not a financial decision but a "passion" decision
All Columbia postbac students are involved in volunteering in various clinical and research settings
Why are postbac programs becoming so popular:
Around 140 programs across the country
Career changers – mostly intentional
Economy as a possible factor
Victoria's background:
Undergrad and graduate (PhD) student at Columbia
Teaching English classes in Columbia
Getting exposed to School of General Studies (the only college in the Ivy League which has become a destination for nontraditional students who want to have a rigorous, elite education)
Postbac premed advising:
4 full-time advisers in the program
Support services at the School of General Studies
Admissions process at Columbia:
Accelerated track through the postbac (1.5 years instead of 2 years)
1st half of the program – students may choose some classes per semester
2nd half of the program – students are required to attend full-time
Shadowing opportunities:
All students are required to complete at least 120 hours of clinical work during their time in the program
Access to the largest municipal hospital system in the US
Active and robust database of clinical opportunities
Standing relationships with a number of New York City hospitals
The struggles of transitioning into science-based curriculum:
Reacquiring that student identity
Not having done any science studies
How Columbia University is supporting their postbac students:
Academic resource center
Postbac coaching program
Seminars on transferable skills, best way to study for the sciences, etc.
Mentorship
Classes geared towards MCAT prep and MCAT prep advising and panels
Glide year counseling
Interview advising (Mastering the Art of the Medical School Interview workshop and for the Multiple Mini Interviews or MMIs)
What is the glide year?
Students who don't apply for linkage admissions (which is like early admission to medical schools) take a glide year
Students get access to a database of glide year opportunities so they can spend the glide year related to health care locally, nationally, and internationally
What Columbia University is looking for in their applicants:
Strong academic credentials (GPA 3.6-3.7)
Great stories about how they got to this point
Dr. Rosner shares some incredible stories of their postbac students
Some pieces of advice for premed students:
There are times when what you're learning feels disconnected from the future that you imagine for yourself as a medical provider. Find a way to spend time in clinical settings (shadowing, volunteering, etc.) to get yourself out into the world of health care and use that as the engine to drive you through your studies.
Find the program that works for you.
Links and Other Resources:
Social Justice Medicine organization at Columbia
AAMC's list of postbac programs
New York Times article about postbac programs
If you need any help with the medical school interview, go to medschoolinterviewbook.com. Sign up and you will receive parts of the book so you can help shape the future of the book. This book will include over 500 questions that may be asked during interview day as well as real-life questions, answers, and feedback from all of the mock interviews Ryan has been doing with students.
Are you a nontraditional student? Go check out oldpremeds.org.
For more great content, check out www.mededmedia.com for more of the shows produced by the Medical School Headquarters including the OldPremeds Podcast and watch out for more shows in the future!
Free MCAT Gift: Free 30+ page guide with tips to help you maximize your MCAT score and which includes discount codes for MCAT prep as well.
Hang out with us over at medicalschoolhq.net/group. Click join and we'll add you up to our private Facebook group. Share your successes and miseries with the rest of us.
Check out our partner magazine, www.premedlife.com to learn more about awesome premed information.
Next Step Test Prep: Get one-on-one tutoring for the MCAT and maximize your score. Get $50 off their tutoring program when you mention that you heard about this on the podcast or through the MSHQ website. Check out their 10-full length practice tests and save 10% using the code "MSHQ".
Listen to our podcast for free at iTunes: medicalschoolhq.net/itunes and leave us a review there!
Email Ryan at ryan@medicalschoolhq.net or connect with him on Twitter @medicalschoolhq
Subscribe for Free
Listen to Other Episodes
Leave us a Review and Rating!
Just like Yelp reviews or IMDB ratings help you choose your next restaurant or movie, leaving a 5 star rating and/or a written review is very valuable to The Premed Years. It allows us to be able to share our information with more people than ever before.
I am so incredibly thankful to those who have recently gone into our listing in iTunes to provide a five start rating and a written review of The Premed Years.
Subscribe and Download
iOS/Mac/Windows – You can subscribe to the show in iTunes. Or you could manually add the RSS feed to your aggregator.
Android/Mac/Windows – You can download DoubleTwist and use that to manage all of our past and future episodes
Please help us spread the word!
If you like the show, will you please take a moment to leave a comment on iTunes? This really helps us get the word out!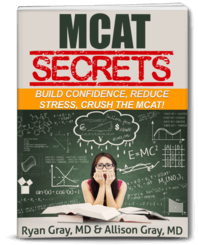 DOWNLOAD FREE - Crush the MCAT with our MCAT Secrets eBook