Session 32
As a result of last week's Session 31 – 8 Pieces of Information Every Premed Should Know which got great responses, Ryan and Allison follow it up with today's episode as they share with you medical school tips and specifically talk about the 7 things you should know as you enter medical school and stuff they have known a little bit more in their medical school journey. We hope the discussion today will help you as you go along your own path into medicine.
Here are the highlights of the conversation with Ryan and Allison:
Medical school is a whole level of smart.
Don't be discouraged. You can't be the best at everything.
You need to do well but you don't have to be the best in medical school.
Don't be intimidated being surrounded by a lot of smart people.
Don't compare yourself or compete with others. Your only competition is you.
Try different study habits until you find what works for you best.
Know yourself and how you study the best. Be willing to adjust as necessary.
Try different study habits and ask around to see what other people are doing.
Your old study habits may no longer serve you in medical school.
Find a study buddy or a study group to keep you motivated.
Medicine like drinking from a fire hose or eating 10 pancakes a day
Expose yourself early to your school's residency program.
If your school has a residency program where you're doing clinical rotations, introduce yourself early to the program director and get to know the residents.
Start asking about research opportunities since many residencies will expect research experience in a particular area so be on the lookout as early on.
Take care of yourself.
Diet, exercise, and sleep all have profound effects on your cognition and memory.
Ryan and Allison have this old expression in medical school, ""Eat when you can, sleep when you can, and don't f#$% with the pancreas."
Find a way to relax your mind and vent out your fears, anxiety, and frustrations.
Build a support structure around you to talk to people.
Learn from your patients.
When you start your clinical years, you'll have so many books to read but you can't read them cover to cover and expect to learn them all.
The best strategy is "just in time" learning where you learn from your patients.
As you encounter a patient, go learn about the disease your patient is currently being treated for to help you learn more.
Read about the topic as you're admitting the patient.
You'll have a better chance of answering once you're being pimped (happens during rounds when the attending or resident calls you out and asks you questions and expect you to know things)
Plus you will remember your patients years later!
The Boards
USMLE Step 1 for MD schools Take a listen to our podcast about the USMLE Step 1 here.
COMLEX for DO schools
These tests are the biggest factors on your residency applications so you have to do well in them
Do well in your classwork and learn during your first two years
Becoming a professional test taker in medical school
Important things to consider:
Geography makes things competitive
More medical students graduating while residency spots are limited
Coursework is a large factor
Residency Application Timing
Apply early to residency.
When you start getting interview requests, remember that's it going to be sent to many so it's like a race for you to get your spot.
First come, first serve basis
Links and Other Resources:
Check out this YouTube video describing how medicine is like eating 10 pancakes a day.
If you need any help with the medical school interview, go to medschoolinterviewbook.com. Sign up and you will receive parts of the book so you can help shape the future of the book. This book will include over 500 questions that may be asked during interview day as well as real-life questions, answers, and feedback from all of the mock interviews Ryan has been doing with students.
Are you a nontraditional student? Go check out oldpremeds.org.
For more great content, check out www.mededmedia.com for more of the shows produced by the Medical School Headquarters including the OldPremeds Podcast and watch out for more shows in the future!
Free MCAT Gift: Free 30+ page guide with tips to help you maximize your MCAT score and which includes discount codes for MCAT prep as well.
Hang out with us over at medicalschoolhq.net/group. Click join and we'll add you up to our private Facebook group. Share your successes and miseries with the rest of us.
Check out our partner magazine, www.premedlife.com to learn more about awesome premed information.
Next Step Test Prep: Get one-on-one tutoring for the MCAT and maximize your score. Get $50 off their tutoring program when you mention that you heard about this on the podcast or through the MSHQ website.
Listen to our podcast for free at iTunes: medicalschoolhq.net/itunes and leave us a review there!
Email Ryan at ryan@medicalschoolhq.net or connect with him on Twitter @medicalschoolhq
Tweet Allison @allison_mshq or send her an email at allison@medicalschoolhq.net.
Subscribe for Free
Listen to Other Episodes
Leave us a Review and Rating!
Just like Yelp reviews or IMDB ratings help you choose your next restaurant or movie, leaving a 5 star rating and/or a written review is very valuable to The Premed Years. It allows us to be able to share our information with more people than ever before.
I am so incredibly thankful to those who have recently gone into our listing in iTunes to provide a five start rating and a written review of The Premed Years.
Subscribe and Download
iOS/Mac/Windows – You can subscribe to the show in iTunes. Or you could manually add the RSS feed to your aggregator.
Android/Mac/Windows – You can download DoubleTwist and use that to manage all of our past and future episodes
Please help us spread the word!
If you like the show, will you please take a moment to leave a comment on iTunes? This really helps us get the word out!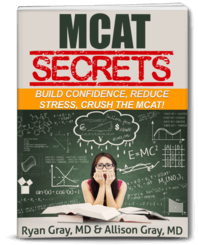 DOWNLOAD FREE - Crush the MCAT with our MCAT Secrets eBook