Session 165
In this episode, Ryan answers questions that have been emailed in and will be covering topics such as choosing an undergrad, premed major, fixing application with poor GPA, and more.
Ryan also talks about his upcoming Medical School Interview book. Go to medschoolinterviewbook.com and Ryan will send out parts of a book he's working on which includes tips for the medical school interview, questions, and how to answer those questions. The book will also contain real, live mock interviews that Ryan has done with students over the years, for you to see how these questions have been answered as well as Ryan's feedback based on the answers.
If you have some questions that you want answered on this podcast, visit medicalschoolhq.net/question or leave a question for the new podcast, the OldPreMeds Podcast. Just sign up for an account over at oldpremeds.org and leave your question there.
Here are some of your questions answered:
Q:  Which school should you go to if you want to do athletic medicine?
A:  What college you go to has no bearing on your career (with a few exceptions). Go to an institution where you're going to be happy and you're going to succeed. Check out the vibe and figure it out that way. Don't worry about your career path.
Q:  How is the admissions committee going to see if you're a nontraditional student with wife, daughter, full time work and a 3.9 GPA who can take no more than 12-13 credit hours per semester?
A:  Calm your worries. There is no problem with this even if it takes 5 years to finish your premed classes. Maintain the GPA. Do well in the MCAT. Make sure you're doing all the other things for your application. Have volunteer hours and do shadowing.
Q:  What are Ryan's experiences working for the military? And did he enjoy the service?
A:  The Premed Years Podcast has done a bunch of content about the military talking with HPSP recruiter for the air force, talking to the USUHS Medical School dean, Ryan talking about being a flight surgeon, and talking to an ex-army dermatologist who went to USUHS, the military medical school and his life in the army. Get these from Sessions 18, 30, 36, and 93.
Update:  Months ago, Ryan separated from the Air Force and after being diagnosed with MS he was no longer able to fly. Just recently, he joined the Connecticut National Guard and got a waiver where he can fly again with the crew. He is the first person ever in the Air Force National Guard to go back in the air with MS and he is excited to share his journey as an international guard flight surgeon.
Q: Student in Puerto Rico who's interested in going to a U.S. Medical School. Double degree in chem and microbiology. Great GPA and doing awesome stuff but worried about his English speaking skills. Should he go to New York and get a master's degree while learning English? When should you take the MCAT?
A: Puerto Rico is part of the U.S. so you're not considered a foreign graduate but a U.S. student. Speaking English is a huge part of communicating in the U.S. Speaking Spanish is a great bonus. Taking the MCAT is very hard. If English is not your first language, you would suffer on the MCAT. But go ahead and take the MCAT. Prepare for it. Take the diagnostic. Start studying for it and see where you're at.
Q:  Can you major in athletic training and still apply to medical school?
A:  You can major in anything that you want. You need to take the premed requirements, the medical school requirements. The pre reqs classes that you need to take include English, Chemistry, Biology, Organic Chemistry, Biochemistry, Physics, Psychology, and Sociology. But you can major in whatever you want as long as you fill in everything else needed for medical school. Don't major in something just because it's a good "premed major." You have to enjoy what you're studying so that you're bringing in your full attention and passion to what you're learning everyday in order to maintain a great GPA and talk about it happily during interviews.
Q: A nontraditional student with family issues in college that affected her GPA where she got a 2.0. What needs to be done to get into medical school?
A: Listen to Session 35, an interview with Dr. Greg Polites about how do you fix your GPA and how you submit a strong application after starting premed poorly. The OPM podcast session 3 opmpodcast.com/3 talks about the 32-hour rule which more and more schools are utilizing in the admissions process where they are using your last 32 hours of credit to determine your GPA while throwing out everything else before that.
Links and Other Resources:
PMY Session 18: Air Force HPSP Scholarship Info Interview
PMY Session 30: Military Medical School and Being a Medical Officer
PMY Session 36: Life as a Flight Surgeon & Intro to Our New Project
PMY Session 93: Ex-Army Dermatologist Talks About His Path through USUHS
PMY Session 35: How to Fix a Medical School Application After Starting Premed Poorly
Go to medschoolinterviewbook.com and share your feedback and insights as Ryan is writing this book.
For more great content, check out www.mededmedia.com for more of the shows that produced by the Medical School Headquarters including the OldPremeds Podcast and watch out for more shows in the future!
Free MCAT Gift: Free 30+ page guide with tips to help you maximize your MCAT score and which includes discount codes for MCAT prep as well.
Hang out with us over at medicalschoolhq.net/group. Click join and we'll add you up to our private Facebook group. Share your successes and miseries with the rest of us.
Check out our partner magazine, www.premedlife.com to learn more about awesome premed information.
Listen to our podcast for free at iTunes: medicalschoolhq.net/itunes and leave us a review there!
Email Ryan at ryan@medicalschoolhq.net or connect with him on Twitter @medicalschoolhq
Subscribe for Free
Listen to Other Episodes
Leave us a Review and Rating!
Just like Yelp reviews or IMDB ratings help you choose your next restaurant or movie, leaving a 5 star rating and/or a written review is very valuable to The Premed Years. It allows us to be able to share our information with more people than ever before.
I am so incredibly thankful to those who have recently gone into our listing in iTunes to provide a five start rating and a written review of The Premed Years.
Subscribe and Download
iOS/Mac/Windows – You can subscribe to the show in iTunes. Or you could manually add the RSS feed to your aggregator.
Android/Mac/Windows – You can download DoubleTwist and use that to manage all of our past and future episodes
Please help us spread the word!
If you like the show, will you please take a moment to leave a comment on iTunes? This really helps us get the word out!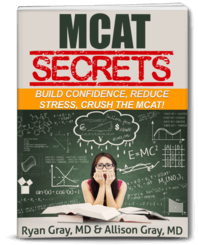 Crush the MCAT with our
MCAT Secrets eBook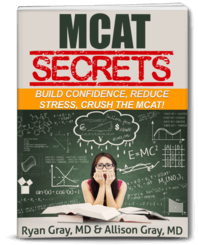 DOWNLOAD FREE - Crush the MCAT with our MCAT Secrets eBook