Session 118
Today, we have a nontrad student working full-time who hasn't taken the prereqs in over a decade not scoring well on his full-length exams. So he's asking whether he should postpone taking the MCAT or not. If you have questions you want answered, check out the Nontrad Premed Forum to join in! Also visit MedEd Media for all our other podcasts to help you on this journey to medical school.
[01:18] Old PreMeds Question of the Week:
"I took all prereqs 12-16 years ago and I'm really struggling. I started studying for the MCAT December of 2017. I took my first full length, a Kaplan full-length one, on February 4th after constant review and got a 489. I took Next Step full length one the next week and got a 501. In the next three weeks, I took Next Step full length 2 and 3 and got a 499 and a 495, respectively.
In all fairness, my dog passed away in this time so I felt like the drop of my scores was because of that. But I just took the AAMC full length one and got a 493. My test is April 21st and I feel like I should postpone until May. I work full time and I've been trying to fit 25 hours of studying in each week (this includes test review.) I can't do much more as I'm a supervisor at my job and I can't drop down to part time.
I guess I'm trying to figure out what to do from here. Do I reschedule? Do I need to go back to content review. Or do I need to immerse myself in AAMC material and questions to improve my scores? Will postponing to late May hurt my chances by delaying my application?"
[02:45] Figure Out the Issue
The question that this all boils down to if you're doing poorly is whether this is a content-based issue or it's this a test-taking skills issue? Is this an MCAT test taking issue?
This nontrad has not taken the prereqs for over a decade and now coming up with not so good scores on his full length exams. This could be probably telling of a content-based issue based on the fact that this student hasn't taken the prereqs for over a decade. Sure, they did content review, but was this sufficient enough to re-spark those synapses in the brain to help you remember everything you learned over a decade ago? Was that content review sufficient enough to remember all of the equations you need to know for Physics. Or all of the information you need to know about Biochemistry, Organic Chemistry, Psychology, Sociology. Did you even take those?
Could there be an MCAT test taking issue here as well? Sure. But the fact, you're scoring low on the full-lengths, tells me there's a content-based issue here.
[05:05] Do You Postpone the Test?
So what do you do about this? Should you push back the test and review more content? Yes! This is actually the first thing that has to happen. Only take the MCAT when you're ready. Your full-length scores are telling you that you are not ready to take the MCAT.
Should you postpone a year? If you're planning on taking it April 21st, will postponing it a month give you enough time to build up that content? Honestly, this could be pretty difficult. My best recommendation is to delay the application a year. Do a full year of content prep. And then get back into the full length exams.
[06:15] Will Postponing to May Hurt Your Application Chances?
A May test date will not hurt your application or delay your application, as long as you are still submitting your application early. Take the test late May. Turn around late May. And then submit your application right in the beginning of June. So you're submitting before you get your score back, which isn't always ideal for people. But by the time applications get sent out to school, secondary essays come back into you and by the time you turn those around, your score will be back. So it won't delay your application.
The question is will delaying the test by one month truly help you in preparing for your application?
[07:28] Take Due Diligence
If you're in this situation where your prereqs are over a decade old, have you done some due diligence and talked to medical schools that you're interested in applying to? Have you told them who you are and what they recommend? There are a lot of them that are going to want to see more recent classes. Twelve to sixteen years ago is a long time.
Therefore, do your due diligence and talk to medical school and lay out your cards on the table. And since a lot of medical schools still want to see recent prereqs, taking the MCAT may just be a waste of time.
Links:
Listen to Other Shows
Leave us a Review and Rating!
Just like Yelp reviews or IMDB ratings help you choose your next restaurant or movie, leaving a 5 star rating and/or a written review is very valuable to the OldPreMeds Podcast. It allows us to be able to share our information with more people than ever before.
I am so incredibly thankful to those who have recently gone into our listing in iTunes to provide a five start rating and a written review of the OldPreMeds Podcast.
Subscribe and Download
iOS/Mac/Windows – You can subscribe to the show in iTunes. Or you could manually add the RSS feed to your aggregator.
Android/Mac/Windows – You can download DoubleTwist and use that to manage all of our past and future episodes
Please help us spread the word!
If you like the show, will you please take a moment to leave a comment on iTunes? This really helps us get the word out!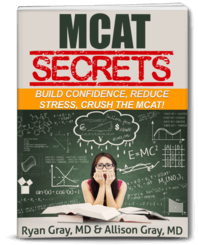 DOWNLOAD FREE - Crush the MCAT with our MCAT Secrets eBook