A.T. Still University Secondary Essay Prompts
(If you have updated prompts, please submit them at updatesecondaries.com)
These prompts are from the 2019 Application Cycle.
All prompts have a 500-word limit.
Prompts:
Describe your activities during any gaps longer than 3 months in your college or postgraduate record.
Describe your experiences with osteopathic physicians. Have you ever shadowed a DO, if not explain why? Do you have a letter of recommendation from a DO, if not explain why?
Describe your understanding of SOMA by answering one of the following questions: What unique feature of SOMA appeals to you? What specific feature of SOMA concerns you? What would be your strongest attribute as a SOMA student? What would be your weakest? How do you plan to be involved with medically underserved populations in your medical career? How have your past volunteer experiences influenced your plans?
Please list any changes or updates to your AACOMAS application. This section may be left blank if your AACOMAS application is complete and accurate. (No character limit)
---
Secondary Deadline: April 1, 2019
Secondary Fee: $70
FAP Waiver: Full Fee Waived
CASPer Required: No
Screens Applications: Yes
Accepts Application Updates:
---
A.T. Still University School of Osteopathic Medicine in Arizona Mission:
Prepare individuals through high-quality, innovative, learning-centered undergraduate and graduate medical education programs to become compassionate osteopathic physicians and healthcare leaders who serve medically underserved populations with a focus on research and community-oriented primary care.
A.T. Still University School of Osteopathic Medicine in Arizona Vision:
To improve delivery of distinctly osteopathic healthcare to underserved populations through innovative selection, training, and placement of graduates, leading to improved well-being for the individual and community.
A.T. Still University School of Osteopathic Medicine in Arizona Values:
Respect
Integrity
Collaboration
Honesty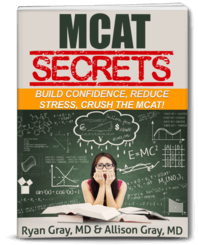 DOWNLOAD FREE - Crush the MCAT with our MCAT Secrets eBook