Marian University Secondary Essay Prompts
(If you have updated prompts, please submit them at updatesecondaries.com)
These prompts are from the 2019 Application Cycle. 
Prompts:
Indicate any changes or additions that have occurred since submitting your AACOMAS application. (Including, but not limited to, education, employment, extracurricular activities, research, military service, academic warnings, conduct violations, and/or convictions (1250 characters).
Are you interested in practicing medicine in Indiana? If yes, please describe your interest and reasons why. If no, please explain why not (1250 characters).
In which area of medicine are you most interested in practicing and why (1250 characters)?
Describe your motivation for attending MU-COM. Please be specific (1250 characters).
Please comment on your experience working with and future desire to serve patients in a rural or medically underserved community (1250 characters).
Please share any other relevant information that you would like the MU-COM Admissions Committee to know about you (750 characters).
---
Secondary Deadline: March 1, 2019
Secondary Fee: $100
FAP Waiver: Full Fee Waived
CASPer Required: No
Screens Applications: Yes
Accepts Application Updates: No
---
Marian University College of Osteopathic Medicine Mission:
The Marian University College of Osteopathic Medicine is a Catholic medical institution built on the inspired vision and values of our Franciscan heritage, and dedicated to preparing osteopathic physicians who are committed to the complete healing of individuals' bodies, minds, and spirits. This institution is committed to serving the people of Indiana and to developing osteopathic physicians through research, service, and teaching.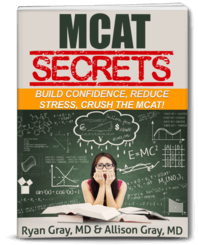 DOWNLOAD FREE - Crush the MCAT with our MCAT Secrets eBook