Mayo Clinic Alix Secondary Essay Prompts
(If you have updated prompts, please submit them at updatesecondaries.com)
These prompts are from the 2019 Application Cycle. 
Prompts:
If you selected YES in Section A above, please tell us in a few sentences why you are interested in the MN/FL 2+2 Track (50 words or less. Please leave blank if you DO NOT wish to be considered for this program.)
Why are you specifically interested in pursuing your medical education at Mayo Clinic School of Medicine even if you gain acceptances to other highly ranked medical schools (500 words max)?
We are all unique in different ways. Explain how your personal diversity manifests in your personal and professional activities (500 words max).
Share with us your thoughts about the relevance – or not – of diverse learning environments in which you wish to learn medicine (500 words max).
MAYO EXPERIENCE: Do you have any current or past connection to any of the Mayo Clinic campuses? (This would include employment (yourself or family member), volunteer service, education/research programs (Mayo Worrall Scholars Program, Summer Undergraduate Research Program (SURF), internship, lab assistant, etc.) (500 words max).
---
Secondary Deadline: November 15, 2018
Secondary Fee: $120
FAP Waiver: Full Fee Waived
CASPer Required: No
Screens Applications: Yes
Accepts Application Updates: Yes Post Interview/Email
---
Mayo Clinic Alix School of Medicine Mission:
To educate and inspire a diverse workforce of physicians and scientists through excellence in medical education, research and clinical care; to alleviate human suffering by providing compassionate and culturally sensitive care; to enhance the biomedical sciences through discovery and innovation; and to advance the national health care system through population science and leadership.

Physician leaders. Physicians model servant leadership in a wide variety of professional settings.
Patient-centered. Exemplifying humanism and Mayo Clinic's unique model of patient-centered health care.
Science-driven. Supporting evidence-based medicine and accelerating discovery and innovation using traditional and emerging sciences, and improving the health care system by applying tools from the science of health care delivery.
Team-based. Working and studying in collaborative groups and facilitating interdisciplinary, collaborative team-based practice.
High-value health care. Advancing the science of health care delivery by mastering the necessary knowledge to improve quality, safety and service within health care systems.
Resilient. Adjusting and thriving in an evolving health care landscape, through deliberate training in wellness and resilience and ongoing reflection and effective change in self and in others.
Diverse and culturally competent. Recognizing, valuing and respecting the richness of diversity and cultural differences.
Mayo Clinic Alix School of Medicine Vision:
Mayo Clinic Alix School of Medicine will transform heath care for both patients and society through excellence in education, discovery, innovation and leadership.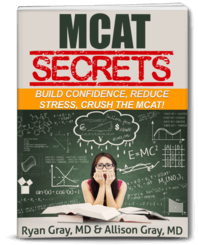 DOWNLOAD FREE - Crush the MCAT with our MCAT Secrets eBook