University of Minnesota- Twin Cities Secondary Essay Prompts
(If you have updated prompts, please submit them at updatesecondaries.com)
These prompts are from the 2019 Application Cycle. 
Prompts:
Please describe your experiences with intentionally expanding your cultural awareness in an effort to promote acceptance, respect, and inclusivity (1500 Characters).
Reflect on your background and the impact it has had on developing your own values and attitudes toward others, particularly those with values different than your own. Please include how your values and attitudes will foster a positive learning environment during your training, and benefit your future patients through the practice of medicine (1500 Characters).
Beyond what you have shared in question two, please share information about important aspects of your personal background or identity as it relates to your desire to pursue medicine. Examples might include, but are not limited to, cultural context, disabilities, ethnicity, gender identity or expression, lived experiences, race/ethnicity, religion or spirituality, sexual orientation or socioeconomic status (Optional/1500 Characters).
If you have a specific interest in the study or practice of medicine please share it here. Please include specific experiences that have informed your interest (Optional/1500 Characters).
Please describe a challenging life experience and how you dealt with it (1500 Characters).
Briefly describe why you are interested in attending the University of Minnesota Medical School Twin Cities campus (1500 Characters).
If you are a non-resident applicant, do you have any special or significant ties to the state of MN? (Non-resident applicants are not required to have ties to MN and this question is not required.)
Please explain any gaps in your education and/or work experiences since high school graduation that are not previously described in your application (300 Characters).
What other pertinent information would you like to bring to the attention of the Admissions Committee? This is an opportunity for you to discuss or highlight any aspect of your journey to medicine that you may or may not have already presented in your application. You may also update us any current experiences that were not included in your AMCAS application. (Optional/1500 Characters).
If you are a re-applicant, how has your current application changed or what additional information would you like to highlight for the Admissions Committee? Re-applicant refers to having applied to any medical school in the past (Optional/1500 Characters).
---
Secondary Deadline: December 1, 2018
Secondary Fee: $100
FAP Waiver: Full Fee Waived
CASPer Required: No
Screens Applications: No
Accepts Application Updates: 
---
University of Minnesota Medical School Mission:
To combine our scientific and clinical strengths to deliver the best in innovative, accountable, compassionate care to our patients and to impact the field of medicine for all.
University of Minnesota Medical School Vision:
To give the best of ourselves to create a Medical School where individuals thrive, collaborations elevate, and the best of medical practice, research and education combine to create a legacy of:

Excellently trained and compassionate physicians.
Scientists with the courage and expertise to pursue life-changing discoveries.
Minnesotans whose lives have been improved through the highest quality of medicine.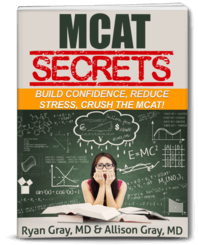 DOWNLOAD FREE - Crush the MCAT with our MCAT Secrets eBook