Oregon Health Sciences University Secondary Essay Prompts
(If you have updated prompts, please submit them at updatesecondaries.com)
These prompts are from the 2019 Application Cycle. 
Prompts:
What experience have you had that has given you insight into the patients you hope to eventually serve? (1500 char)
What will be your greatest challenge in becoming a physician? (1500 char)
Discuss a time in your life that demonstrated your resilience. (1500 char)
Describe a time when you did not receive what you felt you deserved, and how you reacted. (1500 char)
Give an example of personal feedback in the last few years that was difficult to receive. How did you respond? (1500 char)
Please discuss the diversity that you would bring to the OHSU School of Medicine and the profession of medicine. (2000 char)
While you were growing up, did you experience any of the following types of adversity? Economic, Educational, Ethnic/Cultural, Family. Please describe the nature of the adversity. (4000 char)
---
Secondary Deadline: January 19, 2019
Secondary Fee: $100
FAP Waiver: Full Fee Waived
CASPer Required: No
Screens Applications: No
Accepts Application Updates: Yes
---
Oregon Health Sciences University School of Medicine Mission:
It is the mission of the School of Medicine to enhance human health through programs of excellence in education, research, health care and public service to the larger community including underserved populations. In achieving these goals, the Oregon Health & Science University (OHSU) School of Medicine seeks to establish an educational environment that challenges its students to strive for academic excellence and fosters the development of compassion, humanism, professionalism, and cultural competence in the care of patients from their first days in the classroom to their final rotation in the hospitals and clinics. A fundamental priority throughout OHSU is to enable each student to fulfill his or her potential as a human being and as a health care professional while effectively meeting the health-related needs of the multiple communities he or she will serve.
Example Link Can Be Put Here
Example Link Can Be Put Here
Example Link Can Be Put Here
Example Link Can Be Put Here
Example Link Can Be Put Here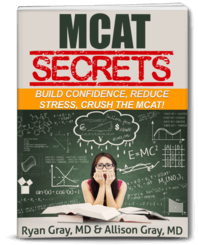 DOWNLOAD FREE - Crush the MCAT with our MCAT Secrets eBook