Rocky Vista University- Colorado Campus Secondary Essay Prompts
(If you have updated prompts, please submit them at updatesecondaries.com)
These prompts are from the 2019 Application Cycle.
Prompts:
If not currently in school, what have you been doing since you were a full-time student?
Were you employed during the regular school year (excluding summers) while in undergraduate school? If so, please state number of hours worked per week and type of work.
Why do you want to become an Osteopathic Physician?
Why do you want to attend RVUCOM?
What unique characteristics, abilities, or skills will you bring to RVUCOM and the Osteopathic Profession?
---
Secondary Deadline: April 15, 2019
Secondary Fee: $60
FAP Waiver: Full Fee Waived
CASPer Required: No
---
Rocky Vista University College of Osteopathic Medicine Mission:
To educate and inspire students to become highly competent osteopathic physicians and lifelong learners prepared to meet the diverse healthcare needs of tomorrow through innovative education, relevant research, and compassionate service.
Rocky Vista University College of Osteopathic Medicine Vision:
Achieving New Heights in Medical Education
Rocky Vista University College of Osteopathic Medicine Values:
Integrity
Collegiality
Compassion
Diversity
Excellence
Service
Innovation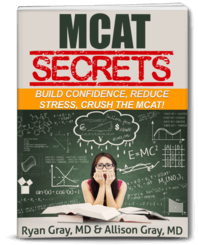 DOWNLOAD FREE - Crush the MCAT with our MCAT Secrets eBook