University of Missouri- Columbia Secondary Essay Prompts
(If you have updated prompts, please submit them at updatesecondaries.com)
These prompts are from the 2019 Application Cycle. 
Prompts:
Please describe any element within your candidacy not fully addressed on the AMCAS application that you want the Admissions Committee to consider. Please include information regarding how you heard about our school, and any factors(programs, people, mission, geography etc.) that led you to apply. (2000 characters)
Diversity Essay
Please discuss (e.g. using specific personal traits, education, life experiences, etc.)

How you will add to the overall diversity of the medical school and the practice of medicine AND
How you will contribute to an inclusive learning environment at the medical school and the practice of medicine.
Reapplicant Essay
In the space provided below, please provide the Admissions Committee with a brief application history (including when you first applied and the number of application attempts). Please describe in detail the ways in which this application is superior to your previous application(s).
---
Secondary Deadline: December 1, 2018
Secondary Fee: $100
FAP Waiver: Full Fee Waived
CASPer Required: No
Screens Applications: No
Accepts Application Updates:
---
University of Missouri School of Medicine Mission:
To improve the health of all people, especially Missourians, through exemplary education, research and patient-centered care. 
University of Missouri School of Medicine Vision:
To be a transformational leader in improving health.
University of Missouri School of Medicine Values:
Excellence: We pursue the highest goals and accept the sacrifices and responsibilities required to achieve our best possible performance.
Respect: We nurture free and open discourse, listen to new ideas, and value diverse perspectives and talents.
Service: We put forth our most diligent efforts on behalf of our patients, learners, stakeholders and partners.
Integrity: We commit to honesty, truthfulness and authenticity in our relationships and activities.
Responsibility: We exhibit a strong sense of duty, stewardship and accountability to each other and to the public.
Innovation: We pursue an ongoing, collaborative process of discovery and translate knowledge for the benefit and service of society.
Compassion: We relate to others in a caring, empathic manner and strive to prevent and relieve human suffering.
Inclusion: We promote diversity and convey a sense of belonging, respect and value for all persons.
Example Link Can Be Put Here
Example Link Can Be Put Here
Example Link Can Be Put Here
Example Link Can Be Put Here
Example Link Can Be Put Here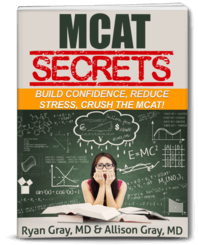 DOWNLOAD FREE - Crush the MCAT with our MCAT Secrets eBook