University of New Mexico Secondary Essay Prompts
(If you have updated prompts, please submit them at updatesecondaries.com)
These prompts are from the 2019 Application Cycle. 
All prompts have a 2,000 character limit. 
Prompts:
Background and Diversity
At the UNM School of Medicine we are committed to building a dynamic, productive and positive learning environment in addition to promoting cross cultural and cross racial understanding among students of diverse talents, experiences, opinions and backgrounds. Share any unique or challenging factors in your background, such as the quality of your early educational environment, socioeconomic status, culture, race, ethnicity and life and work experiences. What would you as an individual bring to our medical community?
Interest and Suitability for a Career in Medicine
There are multiple paths that lead to medical school and many obstacles along the way. Please describe the unique path that has led you to medicine as well as any obstacles or adversity that you had to overcome in achieving this goal. How will this experience affect your career as a physician?
Problem Solving
While providing healthcare as a physician is often a rewarding career, it is also a profession that entails addressing constant challenges. What do you see as the most significant issues the medical profession will face in the next 20 years, and what are some potential solutions for these problems?
Public Health
Part of the goal of the UNM School of Medicine is to address the healthcare disparities that face New Mexico. Once you become a physician, how do you foresee yourself helping to address the healthcare challenges that affect communities in the State of New Mexico?
---
Secondary Deadline: 2 weeks after secondary application is received
Secondary Fee: $100
FAP Waiver: Full Fee Waived
CASPer Required: No
Screens Applications: Yes
Accepts Application Updates:
---
University of New Mexico School of Medicine Mission:
The mission of the University of New Mexico School of Medicine is to advance the health of all New Mexicans by educating and increasing the diversity of health professionals, leaders and scientists; providing outstanding and compassionate medical care; advocating for the health of all New Mexicans and pursuing new knowledge and excellence of practice.
University of New Mexico School of Medicine Vision:
The Vision of the University of New Mexico School of Medicine is to be a transformative community where students become leaders in the delivery of excellent and compassionate health care, partners in the crafting of health policy, and champions of public health; where leaders are lifelong learners; where knowledge and discovery encompass the human experience and are applied to healing and promoting the well-being of our state's people; where scientists, health care providers, and the public collaborate to translate research into real health benefits; where achieving health and health care equality is a common goal; and where diversity is our foremost strength.
University of New Mexico School of Medicine Values:
Excellence and Accountability in the conduct of education, research, patient care, and community engagement;
Compassion in patient care and for the lives and conditions of all New Mexico's people;
Diversity that values the unique characteristics of all people and that is actively sought at all levels within our academic community;
Integrity, Professionalism, and Ethical Behavior that embodies the principles of altruism, beneficence and justice; promotes patient care, learning, research and productivity through relationships based on courtesy, civility and respectful communication; and is worthy of the trust and respect given to us as teachers, scholars and healers;
Social Responsibility demonstrated by discovery and teaching about the social, economic, and cultural contexts of New Mexico peoples health; commitment to health promotion and disease prevention; and by self-evaluation of the access to and quality and distribution of our health care professionals and services; and
Creativity and Innovation that translates biomedical research into individual and community health benefits and medical education into population health literacy, that accelerates health technology diffusion to all corners of the state, and that transforms the science of clinical care into a healing art and the integration of academic and local knowledge into an improved quality of life for all New Mexico people.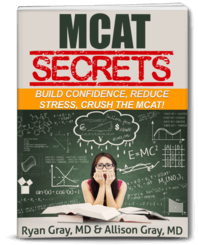 DOWNLOAD FREE - Crush the MCAT with our MCAT Secrets eBook