Session 120

In today's episode, Ryan brings Ben on the show who emailed us one day. Ben is a non-traditional premed student who now has an acceptance to medical school and he's got an amazing journey to share with all of us.
What's crucial in this journey is your ability to surround yourself with the right people and working together with them to help you along your journey to medical school – collaboration, not competition.  You don't have to knock down the person next to you. You're in it together. There are plenty of seats available. You don't have to be the perfect applicant.
We're also going to be talking about many things students seem to underestimate during the application process such as how overwhelming it can be time-wise (you need ample time to prepare) and how you need to understand your uniqueness and be able to convey that during the interview to get that acceptance.
Here are the highlights of the conversation with Ben:
Why Ben thinks he is unorthodox
Going to a public school that has a medical school attached to it
Ben's path into college:
Not knowing that he wanted to be a physician until after graduating from his communication degree
Liking a biology class
Shadowing a physician who treated his broken finger
What led him to medicine:
His interest in the field of orthopedics as an athlete
Not one in his family is a doctor, nurse, or anyone in the medical field
Taking the switch to medicine:
School never came easy to him.
Not having the confidence to pull the trigger (initially)
Dealing with financial challenges
Ben's shadowing experience:
His physician inviting him to shadow him
Shadowing the physician for 4 years
The biggest thing he did right during shadowing:
Trying to just be sponge and absorb everything
Asking questions
Gathering resources: Looking up online and reaching out to a premed advisor at the school he's planning to go to
Going back into a post baccalaureate program:
Taking a chemistry class for the very first time
Dealing with self-doubt issues
Working smarter
Collaborating with people that have the same goals as you do
Collaboration vs. Competition
Surrounding yourself with awesome people
Getting more courage and inspiration to study more
The hardest thing during the application process:
*The time it would take to do everything:
Filling up the form
What schools to apply to, how many schools you apply to
Writing all the secondary applications
Be sure to do your research on the school you're applying to.
Applied at around 30 schools (both MD and DO)
His life experience as his greatest asset during the application (shadowing, interning, etc.)
The importance of telling your story more than just a GPA or an MCAT
Preparing between now and matriculating into med school:
Ryan says, "Start building healthy habits." – to have some uniformity in your routines
Some pieces of advice for premed students:
Regardless of what specialty, just ask as many questions as you can and absorb as much as you can.
Just pick up the phone. Call the people who make the decisions. Ask questions and get answers right from the horse's mouth.
Don't panic. There are going to be things along the way that will get you down. Just ride that wave and make sure your work ethic and dedication are consistent. Just keep your eye on wht your ultimate goal is.
Links and Other Resources
Subscribe for Free
Listen to Other Episodes
Leave us a Review and Rating!
Just like Yelp reviews or IMDB ratings help you choose your next restaurant or movie, leaving a 5 star rating and/or a written review is very valuable to The Premed Years. It allows us to be able to share our information with more people than ever before.
I am so incredibly thankful to those who have recently gone into our listing in iTunes to provide a five start rating and a written review of The Premed Years.
Subscribe and Download
iOS/Mac/Windows – You can subscribe to the show in iTunes. Or you could manually add the RSS feed to your aggregator.
Android/Mac/Windows – You can download DoubleTwist and use that to manage all of our past and future episodes
Please help us spread the word!
If you like the show, will you please take a moment to leave a comment on iTunes? This really helps us get the word out!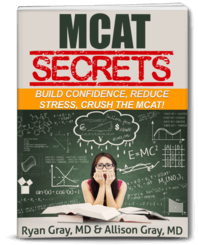 Crush the MCAT with our
MCAT Secrets eBook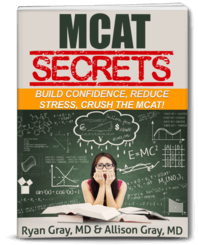 DOWNLOAD FREE - Crush the MCAT with our MCAT Secrets eBook