Session 109
With a current full-time job, kids, and a roof to put over her family's head, this nontrad premed is wondering what she can do to get more exposure to medicine.
Also check out all our other podcasts on the MedEd Media Network including The MCAT Podcast, Specialty Stories, The Premed Years, and Ask Dr. Gray: Premed Q&A.
Today, we're taking a question directly from the OldPreMeds forum. Check out all our other forums on the site if you want to ask some questions as well answer some of them. Join the community!
[01:50] OldPreMeds Question of the Week:
Our poster today is a question from a 30-year-old married mom. She has worked in various non health office jobs over the last several years and is looking to go back to medical school. She says,
"Since it will take me several semesters to complete all of those necessary chemistry classes in succession, I'm looking for some advice on non prerequisite steps to take between now and applying to medical school.
My current full time employment is an office job in digital marketing with no seniority but some scheduling flexibility. I would love to get a headstar  t on gaining health care experience outside of volunteering. But I'm unsure of what would make the most sense. Maximizing present income is a not a huge priority. As a parent of young children, my time is in short supply. I also do not think I currently have the qualifications or relevant experience that medical scribing, admin assisting, etc. roles would require.
Would it be worthwhile to seek additional training in online programs such as a certified medical admin assistant course? I am intrigued by the idea of working as a medical scribe while completing my prerequisites. But I don't know what I can do to make myself an attractive candidate for such a position at this point. Should I even try to get such a job."
[03:35] What Job Should You Take During Your Interim Year?
First, listen to this podcast. Second, join a great community at OldPreMeds and join the forums there. The community is there for you to ask questions as well as to learn and collaborate.
So what can you do during your gap year?
Look at something where you're doing something fun, say 10-20 hours a week. Then you're doing also something medically-related and research- and clinical experience-related for the other 20 hours a week or more. It doesn't have to be an all or none game.
[05:34] Jobs for Premeds
Medical scribing is a premed job. That said, you don't need any experience to get a job as a medical scribe. The scribe company will train you. They'll give you information about medical terminology or how to take notes and listen to physicians, and translate what they're saying so you can put in the notes. You will be trained to do all this.
Medical admin is a non clinical position. Don't even bother doing it. Medical assistant is an amazing job since it's a great clinical experience. Again, it's a lower wage position. Typically, you need training to do it. For online courses, just look around and see how much the courses cost and how long they take to complete. But first, look at potential employers and ask them. Tell them you're interested in being a medical assistant (not a medical student, otherwise this will send a red flag to them that you're leaving soon so they might not hire you). Ask those questions and get to the answers so you will have the confidence to move forward in an online program.
You can also become an EMT. This is one of those things that require training so you need to take a course to become an EMT. It usually takes 200-250 hours to get the course. It's a great clinical experience though.
[08:00] Is a Clinical Job Required?
If you're enjoying your job in digital marketing and you have a flexible schedule that works for you, that's okay. Just make sure you're also doing things like shadowing, clinical experience, etc. Again, no need to do this full-time. Do it once a week or every other week. Get a day's worth of hours and that's already a lot of time which would add up over the course of 1-2 years.
However, there are some schools that might look at you not leaving your job as your non-commitment to medicine or you would have otherwise left your job. Sure, there are some people on the admissions committee that may think that. But do what you think is right for you, your family, and your specific situation.
Lastly, listen to this week's episode on The Premed Years where we talk about the Impostor Syndrome, something that is common in the premed world.
Links:
Listen to Other Shows
Leave us a Review and Rating!
Just like Yelp reviews or IMDB ratings help you choose your next restaurant or movie, leaving a 5 star rating and/or a written review is very valuable to the OldPreMeds Podcast. It allows us to be able to share our information with more people than ever before.
I am so incredibly thankful to those who have recently gone into our listing in iTunes to provide a five start rating and a written review of the OldPreMeds Podcast.
Subscribe and Download
iOS/Mac/Windows – You can subscribe to the show in iTunes. Or you could manually add the RSS feed to your aggregator.
Android/Mac/Windows – You can download DoubleTwist and use that to manage all of our past and future episodes
Please help us spread the word!
If you like the show, will you please take a moment to leave a comment on iTunes? This really helps us get the word out!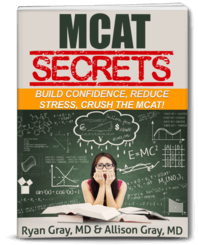 DOWNLOAD FREE - Crush the MCAT with our MCAT Secrets eBook