Drexel University Secondary Essay Prompts
(If you have updated prompts, please submit them at updatesecondaries.com)
These prompts are from the 2019 Application Cycle. 
Prompts:
Please give details about any interruption or time away from your education. Detail your activities for each time period away from school (not including official breaks or summer vacations).
If you are a recent graduate, please tell us what you have been doing since graduation.
What else do you feel is important for us to know about you? Please use this space to highlight something not addressed in your application, including new experiences not in your AMCAS application. (200 words)
---
Secondary Deadline: January 1, 2019
Secondary Fee: $100
FAP Waiver: Full Fee Waived
CASPer Required: Yes
Screens Applications: No
Accepts Application Updates: Yes/Portal
---
Drexel University College of Medicine Mission:
Drexel University College of Medicine excels and innovates in education, research, and delivery of compassionate care in our culture of diversity, spirited inquiry, collaboration, and opportunity.
Drexel University College of Medicine Vision:
Drexel University College of Medicine's strengths will be synergy and integration in the areas of biomedical research and education, technology, and clinical care. We will continue to build on our strong foundation of outstanding medical research, education, and compassionate care of our patients, bolstered by an exceptional, dedicated and diverse faculty, professional staff, and student body. Our emphasis on translational research, integrating the clinical and basic sciences, will significantly strengthen the College's and University's collective contribution to meeting the healthcare needs of society. Continued excellence in these areas will expand our national and international reputation as a medical school committed to the creation of new scientific knowledge and innovative pedagogy for the benefit of our patients, students and humanity.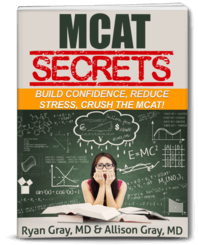 DOWNLOAD FREE - Crush the MCAT with our MCAT Secrets eBook