Perelman at University of Pennsylvania Secondary Essay Prompts:
(If you have updated prompts, please submit them at updatesecondaries.com)
These prompts are from the 2019 Application Cycle. 
Prompts:
Have you been nominated for or received an award from any state, regional or national organization?
Have you taken or are you planning to take time off between college graduation and medical school matriculation?

If yes, 500 character limit.

Have you participated in any global activities outside of the U.S. prior to submitting your AMCAS application?

If yes, 1000 character limit.

Are there any special, unique, personal, or challenging aspects of your personal background or circumstances that you would like to share with the Committee on Admissions, not addressed elsewhere (siblings/relatives at Penn, applying as a couple, educational environment, culture, ethnicity, etc.)

If yes, 1000 character limit

Have you or your family experienced economic hardships?

If yes, 1000 character limit.

Have you been employed at the University of Pennsylvania Health System or Children's Hospital of Philadelphia and worked with a Penn faculty mentor? If yes, please indicate name, department, phone number of faculty, and start/end dates.
Please explain your reasons for applying to the Perelman School of Medicine and limit your response to 1,000 characters.
---
Secondary Deadline: November 15, 2018
Secondary Fee: $90
FAP Waiver: Full Fee Waived
CASPer Required: No
Screens Applications: No
Accepts Application Updates: Yes/Portal
---
Perelman School of Medicine at University of Pennsylvania Mission:
Our mission is to advance knowledge and improve health through research, patient care, and the education of trainees in an inclusive culture that embraces diversity, fosters innovation, stimulates critical thinking, supports lifelong learning, and sustains our legacy of excellence.
Perelman School of Medicine at University of Pennsylvania Vision:
To empower the talent within our integrated Academic Medical Center to find new cures, disseminate knowledge, and improve
health for all people.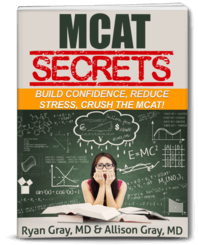 DOWNLOAD FREE - Crush the MCAT with our MCAT Secrets eBook