University of Illinois Secondary Essay Prompts
(If you have updated prompts, please submit them at updatesecondaries.com)
These prompts are from the 2019 Application Cycle.
Prompts:
In addition to training as a competent physician please select up to two additional areas of interest from the items below that you may want to pursue during your medical studies. Your responses will have no bearing on applications to joint degrees or special programs to which you might also apply. Provide a short, 300-500 words, statement on your interest and how you see it influencing your learning.

Simulation
Research in healthcare delivery
Basic science research
Interdisciplinary collaboration
Healthcare disparities
Academic medicine
Global Health
Community Health (urban)
Community Health (rural)
Innovation Medicine
NOTE: Please begin your statement with the letter(s) representing the area(s) of interest enclosed in parentheses as a programmatic queue. Separate multiple areas of interest with a comma. For example, your essay would begin as follows, if you chose Simulation and Research in healthcare delivery: (A, B) … If you choose just one additional area of interest: (A) …
Describe any advantages and/or complications you encountered during your progression in education. Please include any noteworthy achievements and/or obstacles. (Examples: Acute or chronic illnesses, employment, financial difficulty, managerial role in household, etc.) (Don't exceed 150 words)
NOTE: If you did not experience an advantage and/or complication during your education please indicate 'Not Applicable'
---
Secondary Deadline: December 3, 2018
Secondary Fee: $70
FAP Waiver: Full Fee Waived
CASPer Required: Yes
Screens Applications: Yes
Accepts Application Updates: Yes/Email
---
University of Illinois College of Medicine Mission:
The mission of the University of Illinois College of Medicine is to enhance the health of the citizens of Illinois and the nation by educating physicians and biomedical scientists, advancing knowledge in health and disease, and providing healthcare in a setting of education and research.

Through a college-wide planning effort, we have developed our College of Medicine Overarching Goals within each of the three mission areas.
University of Illinois College of Medicine Values:
Excellence everywhere – in research, education and clinical work.
Collaboration with all who can advance our mission at UIC and UIUC, the medical district and other institutions world-wide.
Diversity- in all its forms from students, to areas of research to collaborative partners- as a means to a higher quality of health care for all.
Innovation and Translation of new knowledge and new approaches to disease and health care delivery.
Integrity and Commitment to the people we work with as patients, research subjects, communities and our own students, faculty and staff.
The Promise of Hope for our patients and supporters by striving toward cures for diseases that have plagued humankind for millennia.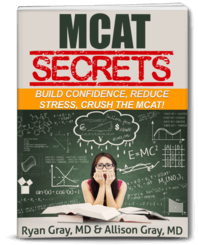 DOWNLOAD FREE - Crush the MCAT with our MCAT Secrets eBook