Baylor Secondary Essay Prompts
(If you have updated prompts, please submit them at updatesecondaries.com)
These prompts are from the 2019 Application Cycle. 
All prompts have a 2,000 character limit.
Prompts:
Indicate any special experiences, unusual factors or other information you feel would be helpful in evaluating you,
including, but not limited to, education, employment, extracurricular activities, prevailing over adversity.
You may expand upon but not repeat AMCAS application information.
What did you do during your gap year?
If you are a career changer there is this: Is becoming a physician a second career for you? If so, what was your first career choice?
MSTP
Please describe your primary research Interests for the PhD portion of dual degree training including potential Baylor College of Medicine or Rice University faculty with whom you would like to work. (Will not limit final research project or mentor selection).
---
Secondary Deadline: December 1, 2018
Secondary Fee: $100
FAP Waiver: Reduced Fee of $50
CASPer Required: No
Screens Applications: No
Accepts Application Updates: Yes/Email
---
Baylor College of Medicine Mission:
Baylor College of Medicine is a health sciences university that creates knowledge and applies science and discoveries to further education, healthcare and community service locally and globally.
Baylor College of Medicine Vision:
Improving health through science, scholarship and innovation.
Baylor College of Medicine Values:
Respect

We promote and support diversity, inclusion and equity
We value our colleagues and ourselves as the College's most valuable assets
We earn the loyalty of those we serve through our commitment

Integrity

Honesty, ethics and openness guide our interactions
We encourage transparent analysis of our policies, process, procedures and decisions
We are accountable for our actions

Innovation

We lead through visionary innovation and creativity
We foster a healthy culture of change
We turn vision into action

Teamwork

We form mutually beneficial partnerships to achieve results
We look past ourselves to focus on the impact of our actions
We recognize all who contribute to our work

Excellence

We focus on quality and value
We commit to continuous quality improvement for outstanding outcomes
We are effective and efficient
Example Link Can Be Put Here
Example Link Can Be Put Here
Example Link Can Be Put Here
Example Link Can Be Put Here
Example Link Can Be Put Here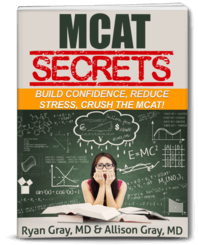 DOWNLOAD FREE - Crush the MCAT with our MCAT Secrets eBook