Texas Tech University Secondary Essay Prompts
(If you have updated prompts, please submit them at updatesecondaries.com)
These prompts are from the 2019 Application Cycle. 
Prompts:
Texas Tech provides the secondary application questions for each cycle by April 1st. You can find the updated questions here. 
2019 Cycle Questions
Select your area(s) of interest (please check all that apply). For each selected area, please list related activities; completed, current or planned. There is a 100 word limit for each selected area:

FMAT
Practicing in an underserved area
Rural health
Medical Research
Medical Academics
Primary Care
Border Health
Other (please describe below)

Of the activities listed in your primary application, identify 3 that you consider to be the most meaningful in your pursuit of a medical career and explain why. (300 words or less)
Have you experienced any road bumps in your academic career? (low academic performance, dropping, retaking, or failing courses, etc.) If yes, please explain your circumstance. (300 words or less)
What do you like or dislike most about the area you are from; your hometown? (300 words or less)
Please describe what you would see as the "ideal" practice for you. (Where, what type of practice – clinic, hospital, specialty, who would be your patients, etc.). (300 words or less)
If you are applying to a dual degree program, please briefly describe your motivation to pursue this program and any other pertinent information. (e.g. research interests, steps taken to prepare yourself). (350 words or less)
Are you applying to FMAT?

What is your marital status?
What town and state(s) have you lived in to age 18?:
What motivates you to participate in the FMAT program? (300 words or less)
What experiences have you had that would prepare you for this intensive program? (300 words or less)
What, in your opinion, distinguishes Family Medicine from other medical specialties? (300 words or less)

Please tell us about your favorite recreational/leisure activities. (300 words or less)
Do you consider yourself from West Texas or as having West Texas ties?

If yes, what town or county did you reside in, or what other factors would you cite? (100 words or less)

Have you participated in any special programs offered by a medical school to help prepare yourself for medical school and a career in medicine?

If yes, what was the name of the program and where was this program hosted (sponsoring school)? (200 words or less)
---
Secondary Deadline: November 30, 2018
Secondary Fee: $60
FAP Waiver: No
CASPer Required: Yes
Screens Applications:
Accepts Application Updates:
---
Texas Tech University Health Sciences Center School of Medicine Mission:
Founded in 1969, the TTUHSC School of Medicine has continually worked to address the shortage of physicians in West Texas by providing quality, innovative educational opportunities to medical students and residents who serve as competent and compassionate medical professionals for the region and the state of Texas. The medical education program emphasizes the principles of primary care and provides sound inter-disciplinary and inter-professional training that integrates basic sciences knowledge, clinical skill, diversity, and a humanistic approach focusing on high standards and comprehensive evaluation. The school's medical practice, Texas Tech Physicians, strives to utilize state-of-the-art technology to effectively meet the growing needs of a diverse and largely rural patient population through strong partnerships with clinical affiliates. Principles of teamwork, humanistic care, and cost effectiveness are embedded into the practice of medicine. The research strategy of the school is to develop insights into the science of medicine, treatments, prevention, and cures, and enhanced methods for managing patient illness, with an emphasis on opportunities for medical student research. Centers of Excellence and Institutes work toward defined areas of excellence where contributions on a national level can be made.
Texas Tech University Health Sciences Center School of Medicine Vision:
To be known for excellence in teaching, patient care, and scientific contributions that enhance the health care of communities in the region.
Example Link Can Be Put Here
Example Link Can Be Put Here
Example Link Can Be Put Here
Example Link Can Be Put Here
Example Link Can Be Put Here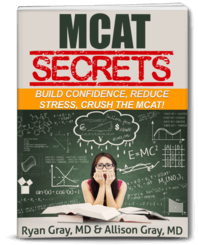 DOWNLOAD FREE - Crush the MCAT with our MCAT Secrets eBook