California University of Science and Medicine Secondary Essay Prompts
(If you have updated prompts, please submit them at updatesecondaries.com)
These prompts are from the 2019 Application Cycle.
All prompts have a 3,000 character limit.
Prompts:
If you were enrolled in fewer than 12 units/credits for more than 1 semester/2 quarters during your undergraduate education, please provide a brief explanation below.
Sometimes it is necessary to work in unsettled or rapidly changing circumstances. When have you found yourself in this position? Tell us exactly what you did.
If you were working on a small group project and you thought that another student wasn't meeting his/her responsibility, how would you feel about this situation and how would you handle it?
If given the opportunity to attend medical school where would you see yourself in ten years?
Diversity comes in many forms. How do you think you might contribute to the diversity of the class?
---
Secondary Deadline: February 28, 2019
Secondary Fee: $100
FAP Waiver: Conditional Fee Waiver (must be granted by associate dean and admissions)
CASPer Required: No
Screens Applications: Yes
Accepts Application Updates: No
---
California University of Science and Medicine School of Medicine Mission:
To advance the art and science of medicine through innovative medical education, research, and compassionate healthcare delivery in an inclusive environment that advocates critical thinking, creativity, integrity, and professionalism.
California University of Science and Medicine School of Medicine Vision:
To develop a socially accountable medical school that:

Directs its education, research, and service activities towards addressing the priority health concerns and wellbeing of its community.
Inspires, motivates and empowers students to become excellent and caring physicians, scientists, and leaders.
Facilitates a medical education for promising students, especially from California's Inland Empire.
Shares freely with the global community its innovative curriculum and advances of best practices in medical education.
California University of Science and Medicine School of Medicine Values:
Community-Focused
Accountability
Leadership
Motivation
Excellence
Diversity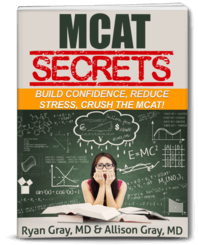 DOWNLOAD FREE - Crush the MCAT with our MCAT Secrets eBook