David Geffen School of Medicine at UCLA Secondary Essay Prompts
(If you have updated prompts, please submit them at updatesecondaries.com)
These prompts are from the 2019 Application Cycle.
Prompts:
Describe your involvement in the one most important non-academic activity in your life (800 char).
What has been the one most unique leadership, entrepreneurial or creative activity in which you participated? (800 char)
What has been the one most important volunteer work you have done and why was it meaningful? (800 char)
Has there been or will there be a gap between achieving your last degree (baccalaureate or other degrees post baccalaureate) and the expected time of medical school matriculation? (300 char to explain if yes)
What is the one most important honor you have received? Why do you view this as important? (300 char)
What has been your most scholarly project (thesis, research or field of study in basic or clinical science or in the humanities)? Describe one and give number of hours, dates and advisor. (300 char)
Describe a problem in your life. Include how you dealt with it and how it influenced your growth. (500 char)
Section to enter major work experiences, with 4000 char. to explain each experience.
Is there any hardship to which you would like the committee to give special attention in evaluating your application? If yes: Please explain. Include any geographic, language, economic, academic, physical, or mental factors: (500 char)
Where do you see yourself in 10 years? What experiences have led you to this goal? (500 char)
Prime:
Each prompt has a 2,000 character limit
What is the most important social issue confronting the health of disadvantaged communities and what would be your first steps to address this issue?
In what way will graduating from UCLA PRIME and obtaining a master's degree enhance your career in health care or health services for disadvantaged communities? (If you are considering a specific master's degree (e.g. MPP, MPH, MBA, etc.), please incorporate your graduate degree plans or aspirations into your answer)
Describe the manner in which your experiences demonstrate your understanding of, and commitment to, underserved communities.
What are your greatest strengths and your greatest challenges as you approach medical school?
What is your most memorable experience as it relates to working with vulnerable populations?
---
Secondary Deadline: 30 days after the date of the supplemental application request letter, or November 21, 2018, whichever is earlier.
Secondary Fee: $95
FAP Waiver: Full Fee Waiver
CASPer Required: No
---
David Geffen School of Medicine at UCLA Mission:
We, the faculty of the David Geffen School of Medicine at UCLA, seek to prepare our graduates for distinguished careers in clinical practice, teaching, research, and public service. Recognizing that medical school is but one phase in a physicians education, we must create an environment in which students prepare for a future in which scientific knowledge, societal values, and human needs are ever changing.

The faculty and students will actively collaborate to build a strong foundation which will include:

Enthusiasm for life-long learning.
Commitment to humanistic, compassionate, and ethical care of the individual and family.
Skills in effective communication, and commitment to education, including teaching students, colleagues, patients and the community.
Ongoing development of a broad and flexible base of knowledge and skills that integrates basic, clinical, social, and behavioral sciences with the art of medicine.
An understanding of the scientific method, and an appreciation of its application to clinical practice as well as to research.
Commitment to promote the health and well-being of the community, and an understanding of the special challenges and requirements of a diverse society.
Ability to lead in their chosen fields, in settings of rapidly changing technology and societal needs.
The ability to address complex societal and medical issues through a systematic, multidisciplinary, and collaborative approach.
David Geffen School of Medicine at UCLA Values:
Excellence and Integrity
Discovery and Innovation
Service and Respect
Teamwork and Compassion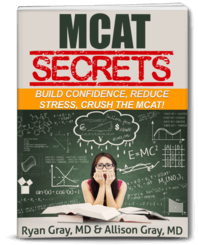 DOWNLOAD FREE - Crush the MCAT with our MCAT Secrets eBook