University of California, Riverside Secondary Essay Prompts
(If you have updated prompts, please submit them at updatesecondaries.com)
These prompts are from the 2019 Application Cycle (the questions are unchanged from the last cycle).
All of the prompts have a 250-word limit.
Education:
Has your education been continuous since graduation from high school (yes or no, explanation if no)?
Activities:
Describe the single MOST important event or non-academic activity in your life and explain why it's significant.
What activity or accomplishment are you MOST proud of?
What experiences or activities have prepared you to work with medically underserved communities
Please list any Scholastic Activities that you have been involved with (including honors and awards).
Personal:
Describe a major problem you have had to deal with at some time in your life. Include how you dealt with it and how it influenced your growth.
Is there any specific hardship to which you would like the committee to give special attention in evaluating your application? Please briefly explain below. (Include any geographic, language, economic, academic, physical, or mental factors.)
What kind of health care setting do you envision yourself working in?
How do you see yourself contributing to the mission of the UCR School of Medicine?
PERSONAL STATEMENT: Your personal statement from the AMCAS application will be used in our admissions process. You do not need to duplicate it here. At your option, you may use this space to provide any further information you may want us to consider in addition to the AMCAS personal statement. THIS IS NOT MANDATORY.
---
Secondary Deadline: Not Provided (School asks that secondaries are done within two weeks)
Secondary Fee: $105
FAP Waiver: Full Fee Waived
CASPer Required: No
Screens Applications: Yes
Accepts Application Updates: Yes/Email
---
University of California, Riverside School of Medicine Mission Statement
The mission of the UCR School of Medicine is to improve the health of the people of California and, especially, to serve Inland Southern California by training a diverse workforce of physicians and by developing innovative research and health care delivery programs that will improve the health of the medically underserved in the region and become models to be emulated throughout the state and nation.
University of California, Riverside School of Medicine Values
Inclusion
Integrity
Innovation
Excellence
Accountability
Respect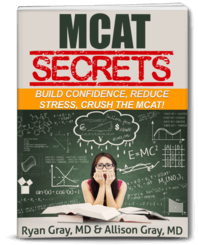 DOWNLOAD FREE - Crush the MCAT with our MCAT Secrets eBook