New York Institute of Technology Secondary Essay Prompts
(If you have updated prompts, please submit them at updatesecondaries.com)
These prompts are from the 2019 Application Cycle. 
All prompts have a 1,000 character limit.
Prompts:
What NYITCOM campus/site are you interested in attending? The NYITCOM Admissions Committee reserves the right to recommend the best campus fit for you based upon your complete application.
Briefly describe the reasons for your campus/site choice and comment on one or two factors that are most important to you in choosing where you wish to pursue your medical education.
Please describe how your personal characteristics, experiences and skills will uniquely contribute to NYITCOM's diverse learning environment and mission.
After residency, describe the community in which you see yourself practicing medicine.
---
Secondary Deadline: 10 days after the secondary application is received
Secondary Fee: $80
FAP Waiver: Full Fee Waived
CASPer Required: No
Screens Applications: No
Accepts Application Updates:
---
New York Institute of Technology College of Osteopathic Medicine Mission:
New York Institute of Technology College of Osteopathic Medicine (NYITCOM) is committed to training osteopathic physicians for a lifetime of learning and practice, based upon the integration of evidence-based knowledge, critical thinking, and the tenets of osteopathic principles and practice. We are also committed to preparing osteopathic physicians for careers in health care, including that in the inner city and rural communities, as well as to the scholarly pursuit of new knowledge concerning health and disease. We provide a continuum of educational experiences to NYITCOM students, extending through the clinical and post-graduate years of training. This continuum provides the future osteopathic physician with the foundation necessary to maintain competence and compassion, as well as the ability to better serve society through research, teaching, and leadership.
New York Institute of Technology College of Osteopathic Medicine Vision:
To advance patient-centered, population-based osteopathic health care through transformative education and illuminating research.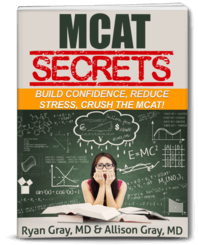 DOWNLOAD FREE - Crush the MCAT with our MCAT Secrets eBook