Renaissance at Stony Brooke University Secondary Essay Prompts
(If you have updated prompts, please submit them at updatesecondaries.com)
These prompts are from the 2019 Application Cycle.
All prompts have a 500-word limit.
Prompts:
Will your education be continuous between college and medical school matriculation?

If YES, please tell us about your proudest accomplishment to date.
If NO, please explain what you have done or plan to do during the gap period and why.
Describe an obstacle you've overcome and how it has defined you.
MSTP
Please describe the basic and/or clinical research fields that you think you might like to explore and/or develop expertise in during your MSTP training. To the extent that you have defined potential specific future clinical interests, please describe the type(s) of medicine that you might be interested in pursuing once you have completed the MSTP.
---
Secondary Deadline: December 28, 2018
Secondary Fee: $100
FAP Waiver: Full Fee Waived
CASPer Required: Yes
Screens Applications: No
Accepts Application Updates: Yes/Email
---
Renaissance School of Medicine at Stony Brook University Mission:
The primary goals of the Renaissance School of Medicine at Stony Brook University are to 1) advance the medical sciences by translating cutting-edge biomedical science into diagnostic, therapeutic and prognostic advances, 2) develop a diverse cadre of caring and skilled physicians and biomedical scientists who are outstanding candidates for graduate and specialty training programs, 3) deliver compassionate clinical care in an efficient, state-of-the-art, safe and cost-conscious fashion, and 4) reach out to multiple communities to enrich both our citizens and ourselves. We should train our graduates and faculty to value and apply the scientific method and evidence-based medicine to the solution of clinical problems. They will integrate clinical, biomedical and behavioral knowledge in order to promote the health and well-being of patients and our communities. They will value lifelong learning and be able to locate, critically evaluate and integrate new scientific and clinical findings that advance the science of medicine. Our healthcare practitioners will develop a deep appreciation for the healing dynamic of the physician-patient relationship, in which compassionate care is manifested by attentive listening, empathy, respect and commitment. They will provide highly competent, safe and patient-centered care while demonstrating the highest level of professionalism and sensitivity to the diverse personal and cultural contexts in which medical care is delivered. We should instill in each Renaissance School of Medicine graduate and faculty member the willingness to accept the professional responsibility to model and teach compassionate and diligent care in such a way as to inspire these virtues in others, regardless of circumstances. Simply put, our mission is to educate physicians and investigators in the biomedical and clinical sciences so that they are well-prepared to advance the frontiers of research, education, clinical practice and advocacy.
Renaissance School of Medicine at Stony Brook University Vision:
Over the next five years, Stony Brook Medicine will become an integrated health system at the intersection of academic and community-based medicine, distinguished by unparalleled excellence and innovation in clinical care, as well as a commitment to advance population health. Stony Brook Medicine will lead the region in pushing forward the frontiers of biomedical research, by marrying engineering and medicine, bringing new insights into the origins of human health and disease, and translating that new knowledge into advanced diagnostics, treatments and prognostication for our patients. And Stony Brook Medicine will train a new generation of compassionate and caring physicians, who excel in both the art and science of medicine.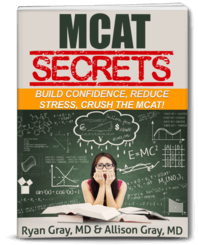 DOWNLOAD FREE - Crush the MCAT with our MCAT Secrets eBook