Weill Cornell Secondary Essay Prompts
(If you have updated prompts, please submit them at updatesecondaries.com)
These prompts are from the 2019 Application Cycle. 
All prompts have a 200-word limit.
Prompts:
If you are not attending college during the upcoming (2018-2019) academic year, what are your plans?
Please write a brief statement giving your reasons for applying to Weill Cornell Medical College.
Please describe a challenge you faced and how you addressed it.
For MD-PhD applicants only: Please list the names of any Tri-Institutional faculty members with whom you'd like to do research. You do not need to list reasons, names are sufficient.
---
Secondary Deadline: November 15, 2018
Secondary Fee: $100
FAP Waiver: Full Fee Waived
CASPer Required: No
Screens Applications: No
Accepts Application Updates: Yes/Email
---
Weill Cornell Medical College Mission:
Weill Cornell Medical College and the Graduate School of Medical Sciences are committed to excellence in research, teaching, patient care, and the advancement of the art and science of medicine. To this end, our mission is to provide the finest education possible for medical students and students pursuing advanced degrees in the biomedical sciences, to contribute to the lifelong education of physicians throughout their careers, to conduct research at the cutting edge of knowledge, to improve the healthcare of the nation and the world both now and for future generations, and to provide the highest quality of clinical care for the communities we serve. Success in any of these areas contributes to success in the others.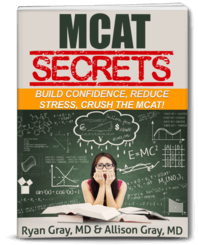 DOWNLOAD FREE - Crush the MCAT with our MCAT Secrets eBook